OVERVIEW OF THE FACULTY OF FINANCE - ACCOUNTING
Faculty Name: FINANCE – ACCOUNTING
Address: Room #B201, Building B, Campus 1, Lac Hong University, No. 10, Huynh Van Nghe Street, Buu Long Ward, Bien Hoa City, Dong Nai Province.
Phone: +84-2513.953.441
Email: taichinhketoan@lhu.edu.vn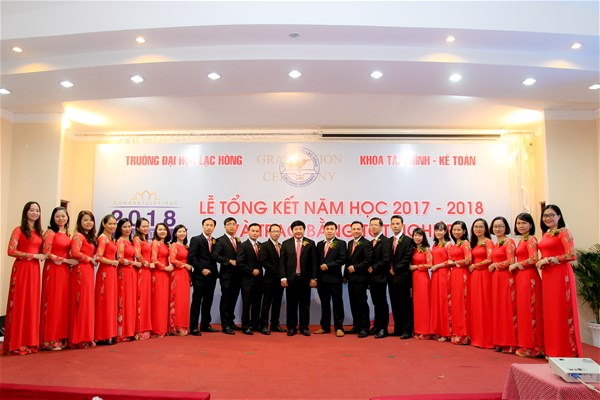 Collective school of faculties and staffs
Training objectives:
The Faculty of Finance - Accounting (FFA) offers bachelor's degrees in Finance - Banking and Accounting with political and ethical qualities, mastering basic knowledge and improving finance and accounting in the economic sector. The programs offered by FFA closely follow the recent regulations by the Ministry of Education and Training (MOET) with significant updates based on the needs of industries and the local area. It is continuously updated in reference to existing programs offered in other domestic and foreign universities so that FFA students have the ability to research and solve practical problems in the professional fields of finance, banking, accounting, etc. Therefore, graduates of FFA can work in several different fields.
Educational Programs:
FFA is now offering two undergraduate programs, including:
@ Bachelor of Finance - Banking
Training system: Full time.
Duration of training: 3.5 years (for students taking daytime classes); 4 years (for students taking night classes).
Degree: Bachelor of Finance - Banking.
Finance - Banking is a fairly broad industry, involving all transaction services, currency exchange. Therefore, there are many narrow and specialized fields depending on the training objectives of each school. Students studying Finance and Banking are provided with not only a general knowledge of basic sciences, economics, basic knowledge of the industry such as: monetary finance, accounting, and economics but also in-depth knowledge according to each specific study minor. Finance - Banking industry has majored in many different fields: Banking, Corporate Finance, Public Finance, International Finance, Tax, Customs, Securities Trading, Asset Tuning, Financial Policy Analysis, International Payments, etc.
After their graduation, students can work in central or local state agencies (Tax, Customs, Treasury, etc.), enterprises in all sectors of the economy, banking system, and business activities of credit institutions, financial companies, securities companies, insurance companies, etc. Practically, this is an industry with very high job opportunities; however, the rate of unemployment is also relatively high because of the strict requirements of employers in banks, finance, or insurance companies who always expect the applicants to be good at basic operations, English proficiency, intelligence, proactiveness, and adaptability to practical work. Therefore, students are encouraged to develop themselves during their study at FFA.
@ Bachelor of Accounting
Training system: Full time;
Training duration:
- Regular study: 3.5 years (for day classes); 4 years (for night classes)
- Upgrade from intermediate degree: 02 years (night class)
- Upgrade from college degree: 1.5 years (night class)
- Second Bachelor: 02 years (night class)
Accounting is equipped with general knowledge about the economic sector, basic knowledge of the industry such as monetary finance, financial accounting, management accounting, etc. and in-depth knowledge of accounting. Students are equipped with knowledge and master the financial and accounting regime as prescribed by law; capable of managing operational accounting and finance in various types of enterprises, practice and guide the implementation of accounting, etc. Accounting is the work of recording, collecting, processing and providing information about the financial and economic situation of an organization. Graduates in accounting can work in accounting, finance, finance, credit departments of all enterprises and organizational agencies. There are many job opportunities in the industry because there are has more than 500,000 businesses in the country. The economic development also results in setting up more and more companies. Each company needs at least 1-2 accountants, or even more if the company size is more than 50 people. Additionally, non-business administrative units, state agencies, NGOs, etc. also need accountants.
Admission:
Admission in FFA is strictly complied with the current regulations by the Ministry of Education and Training and enrollment policies of Lac Hong University.